Introducing Matrix
The next generation
body-worn camera.
The m-View Matrix is a third-generation Body Worn Camera. Refined for longer use and durability, the Matrix is compact and easy to wear.
The Matrix can be used stand-alone or in combination with an iOS or Android mobile device.
When used stand-alone, the wearer can operate the camera using a simple one-press button to activate and deactivate recording.
When paired with a mobile device, additional functionality is enabled including view-finder, footage review, tagging, and live streaming.
The Matrix's automatic low-light function ensures top performance in dark settings, and the infra-red illumination records video in complete darkness.
With extended battery life and a quick drop and go function, the Matrix allows operators to drop the device in its dock station and the content will quickly offload to secure storage.
The Matrix is game-changing body worn technology made with movement in mind. Experience the advantage of the next generation of body worn from
m-View.
Intelligently
Beautiful Features

Compact & Light
All-day comfort requires a compact and light body worn. The Matrix is 125 grams, lighter than most mobile phones.
Battery Life
Whole-of-shift battery life is critical. The Matrix camera will record for up to 12 hours on a single charge. 
Hot Start Operation
With a single button-press, the Matrix camera powers-up within 3 seconds. It can also self-power off when not in use. 
Drop & Go
When returned to its dock station, the recorded content is rapidly offloaded to secure storage. 

One Button Operation
One large button operates all core functions. This enables error-free operation even with heavy gloves in pressure situations.
Day & Night Capture
Its 140-degree lens ensures wide-angle viewing. Superior low-light performance and automatic infra-red illumination records video in darkness. 
Live Streaming
Live video streaming offers game-changing levels of real-time intelligence. The  one-touch live streaming  improves the speed and streaming of critical incidents,  
Integrated Battery
An integrated battery simplifies management logistics, and having one less connector enhances system reliability.
..
Stealth Mode
Stealth mode disables all lights and sounds so operators will not attract unwanted attention.
Pre Recording
The pre-record function enables capture up to 1 minute before record starts, allowing greater capture of the event. 
Made for Industry
High-speed collaboration changes how emergency services work. Real-time surveillance enhances how businesses and governments operate making for effective, optimal outcomes.
Introducing Matrix (BWC)
Lighter. Compact. Durable.
The m-View Matrix is a third-generation Body Worn Camera.
It can be used stand-alone or in combination with an iOS or Android mobile device.
Dock Station
Allows multiple cameras to download and charge simultaneously. Can provide the option of personal or shared camera issue for users.
Klick Fast MOLLE Dock Mount

Recommended mount for Load-bearing and ballistic vests with MOLLE webbing. 
Klick Fast Dock Clamp Clip
Clip fixes quickly and securely with counter balance 

block to keep BWC level. Recommended mounting 

for shirts, polo shirts, plain clothes, jackets, vests 

etc.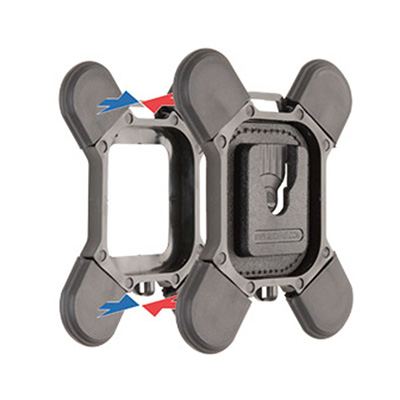 Klick Fast Magnetic Mount
Recommended for raincoats, hi-vis vests, and any garment that does not provide a suitable position for other mount types. Magnets hold the device in place; no stitching or screwing required.
Klick Fast Belt Dock
Recommended where any user does not have space on the chest area to mount the camera.
Klick Fast Sew-on Dock Mount
Recommended for permanent mounting point on 

any garment that can be sewn.
Klick Fast Screw on Dock Mount
Recommended for any fabric garments that do not have MOLLE webbing, can be installed by the end- user without tools or equipment.
Video Resolution (Live streaming)
1280*720@30fps, 848*480@30fps, 432*240@30fps
Snap Shot
Capture Photos While Video Recording at same resolution as video
WiFi Control
802.11b, 802.11g, 2.4GHz. Station mode, Wi-Fi Direct mode, WPA2 (AES)
Photo
3Megapixel (MP), 12MP, 8MP, 5MP, 21MP JPEG;
Support Burst Mode up to 8MP (3 or 5 Images with single button press)
Media Format
H.264 video codec, AAC audio codec, .MP4 file,
Live Stream
Live Video Streaming capability to remote viewers
Notifications
Visual (LED), Audible (Chime), Haptic (Vibration)
Night Vision
Ultra low light colour performance. Dual IR illuminators with up to 10 Meters with 
Visible Face Detection
Watermark
User ID, HW ID, DateTime Stamp
Storage Capacity
Standard 32GB Storage. Upgradable to 64GB Storage
Lens Angle
Wide Angle 140 degrees
Infra-red Mode
2 x IR LED illuminators, auto-switching via photo-resistor
Type
3200maH Lithium-ion Integrated Battery
Working Temperature
-20~+55 Degrees Celsius
Dimensions
75mm x 56mm x 22mm
Storage Temperature
-20~+55 Degrees Celsius
Weight
125g (without mount)
USB Cable, Charging Cradle